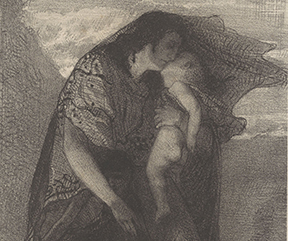 MEDEA AND THE MODERN MOTHER:
TRANSMUTATIONS IN MOTHERHOOD
---
SATURDAY, FEBRUARY 18, 2023
10AM – 3PM
FACULTY: BROOKE LAUFER, PsyD
4 Possible Continuing Education Credits Approved for MD, PhD, PsyD, MFT, LCSW,
LPCC, LEP & RN
TUITION: $100 (INCLUDES CEUS)
---
By bringing attention to Medea as the Death Mother archetype,
we may transmute aspects of the shadow for women and mothers.
---
In the myth of Medea, as depicted by the Greek playwright Euripides,
Medea, who not only represents the feminine but also the forces of
nature and transformation, is profoundly incompatible with the
"Old King" — or the patriarchal principle. She reacts in rage, not
necessarily scorn as is so often projected onto her. She destroys
and creates havoc, as the unconscious does when it is not heard
or denied.
This half-day class addresses both the actuality of maternal filicide
and the symbolism of it, as suggested by Dr. Laufer and supported
by Jungian literature. In her work as a perinatal mental health
specialist, Laufer sees not only women who suffer from psychological
anguish associated with the perinatal experience, but women who
have been in such a severe postpartum mental health crisis that they
have committed the unthinkable. This class will address why this
continues to happen, and what these events may be saying about
our world and our social construction of motherhood.
BROOKE LAUFER PsyD, runs a group private practice. She specializes
in the treatment of Perinatal Mental Illness. She also works as an expert
witness for women who have committed a crime during a postpartum
episode. Brooke has two children, along with a white cat named Luna;
they all live and work and play together in Evanston, IL.