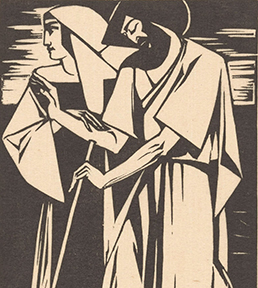 OEDIPUS AND THE RED PILL:
INITIATION AND EVOLUTION
---
SATURDAY, MAY 20, 2023
10AM – 4PM
FACULTY: FRANCES HATFIELD, PhD, MFT
5 Possible Continuing Education Credits Approved for MD, PhD, PsyD, MFT, LCSW,
LPCC, LEP & RN
TUITION: $125 (INCLUDES CEUS)
---
An evolutionary path through our current planetary crisis is explored
through the myth of Oedipus, ancient Orphic origin stories, and
C. G. Jung's The Red Book.
---
The choice to "take the red pill," has entered popular culture as a
metaphor for the choice to wake up to the constructed nature of our
experience and the bitter truth it hides. Ironically, alt-right theorists
and more recently, Elon Musk, urge us to take the red pill. In this
seminar, we will trace this theme back to the myth of King Oedipus,
who chose to learn the hard truth about his ancestry to discover
the cause of a plague decimating his people. In Sophocles' telling,
Oedipus then suffers a kind of initiation, ultimately emerging as a
prophet with the power to bless the earth.
In analytical psychology, the decision to unmask the delusions of
ego, or of the dominant culture, to reveal the truth of who we really
are and reckon with what we have done to one another and our planet,
is the portal to wholeness, key to our evolution as a species, and our
path into a new age, Jung's "Age of the Holy Spirit."
FRANCES HATFIELD, PhD, LMFT, is the poetry editor of Jung Journal:
Culture and Psyche, and a senior analyst in private practice in
Santa Fe, New Mexico, and California. She teaches in the training
programs at the Jung Institute of Santa Fe and the C.G. Jung Institute of
San Francisco. She is currently writing a book on the archetype of Dionysos.